The perfect road trip is now at your fingertips with the release of our Mobile Road Trip Planner and other great features.
Mobile Road Trip Planner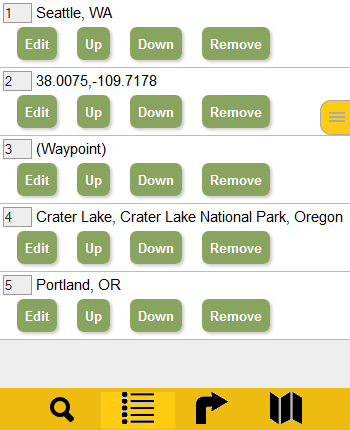 Our new mobile Road Trip Planner offers all the features you love in our desktop version, slimmed down to a full-screen, touch-friendly interface in your mobile web browser on IPhones and Androids. Now you can plan, edit, share, and upload GPS directions on the go with no software installation or updates.
We have optimized some features for the mobile experience. Highlights are:
You can now use our GPS directions on your phone's Google Maps Mobile application. In the Export Maps Menu, we've added a new "Provide Direct Links" checkbox, which when selected, will allow you to copy the GPS file links to your mobile phone. You can read more about that below.
We've also added the "Follow Me" feature. Using your phone's GPS, your location will be highlighted on the map. This allows you to quickly know where you are without adding your location as stop.
Route Optimizer
With so many great stops, planning the ideal route can be complicated. Using our new Route Optimizer, we can determine the best route that connects all of your stops and update your Road Trip Plan to avoid backtracking, save time and gas.
This feature can be accessed from the Map menu, and of course you can override or change as fits your trip best.
GPS File Format Updates
GPS devices are a valuable asset to hitting the road and we've now made it easier to load our routes onto your devices.
We have added the ability to download the GPS files directly into applications such as the Google Maps Mobile application. Prior to this update, you could only access the GPS files if you login, but now, if you enable the "Offsite GPS Support", you can access the directions easily. Choose Export to GPS and select the "Direct Link" option.
Many of the new TomTom devices do not have support for Itineraries. For these devices, we have added TomTom Place of Interest (OV2) support. Simply select it as an export format, load it onto your TomTom via MyTomTom, and configure your route from those places of interest. Best of all, this feature is available for all of our scenic drives! TomTom will soon be releasing a new application that will make this even easier. Keep an eye out for the software update in the next few weeks.
Turn-by-Turn Printable Maps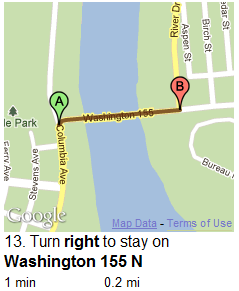 GPS devices are great, but often there's nothing like having a printed copy of the directions. We made a few changes to use less paper and save trees and added Turn-by-Turn Maps to help guide you. When selected in Print Options, the Turn-by-Turn Maps and Directions will create a small map with text directions below for each turn of your trip. The map provides some context of the surrounding area.
Time Zone Detection
If you are taking a cross-country excursion, you may be passing through time zones. One of our latest features is Time Zone Detection. In all of our directions, if you cross a time zone, it will be mentioned.
Note: If you are planning a trip that will occur during Daylights Savings or back, we recommend you set the date for your trip in your Trip Properties to ensure schedule is accurate.
Find Nearby Drives, Outdoor Recreation, and Activities
Another new feature is to locate nearby Scenic Drives, Outdoor Recreation, and other Activities along your selected route. This feature is similar to Find Nearby Places of Interest but instead of focusing on all the content in one area, it allows you to search specific content along your entire route. This is a great way to find those not-to-be-missed activities along your route, and as myscenicdrives.com continues to grow, this experience will only get richer!
Get inspiration from Pictures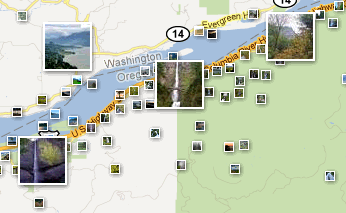 Pictures are worth a thousand words. Trying to decide between routes or choose stops along the way? Panoramio pictures are now available from the Map menu where you can see thousands of photos submitted from people who have been there.
Hotels for You
Choosing the right hotel requires some filtering. We've just added the ability to search by Amenity, making it simple to find a hotel with a pool, complimentary breakfast, pet-friendly, and more.
Foreign currency exchange rates on credit cards are not fun. To help our Canadian users avoid additional charges, we have just released the ability to book hotels in Canadian Dollars. For now, this service is only available on hotel purchases.
Thanks
Many of the features above have been inspired by you, our users. Thank you for your feedback and support. We are excited with this growing community of travelers that share our core belief — getting there is more than half the fun. Happy and safe travels!